ERHOPHAL Maschinenmesser GmbH is a family business rich in tradition, which was founded in 1982 and is now being successfully operated by the second generation.
Our high-quality products have made us world-wide to a competitive partner in the trade business, for machine manufacturers and for consumers.
We produce knives and guiding parts made of high-quality tool-, HSS- and modern PM steel for all branches of the industry, especially for the lumber industry.
Our company has been producing complicated profile knives by using CNC-driven profile grinding machines since 2002.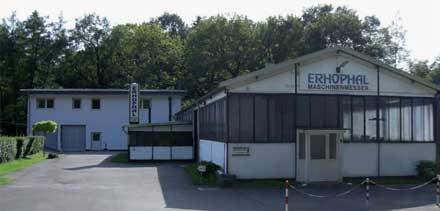 Our work is innovative and has reached an extremely high level because of on going development and modernising of our production procedures and because of our continuous training of our employees. This is valid for an individual, customised series production using customers' samples or drawings, or for a complex mass production.
You are always a step ahead of your competitor when using ERHOPHAL products.
Test us!